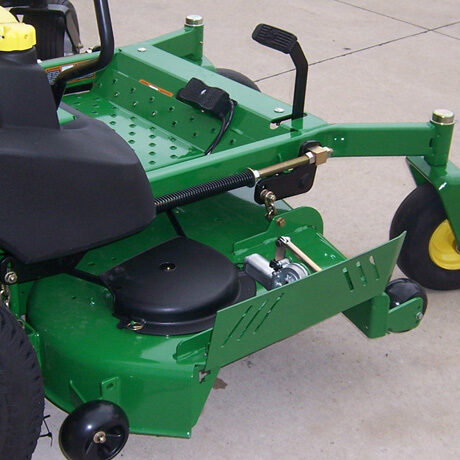 Your Reliable Source for
Motorized Discharge Chutes
Power Chute Design strives to provide you with superior operator-controlled discharge chutes (OCDCs) and other accessories for your lawn mower. We are committed to making exceptional products. Because of this, we thoroughly test for their strength, reliability, and viability ourselves.
Innovating OCDC Products in the Industry
The original OCDC, which was a manually operated device, was patented by a major lawn mower manufacturer back in 1966. Since then, its designs have been modified by several companies throughout the years. We are one of them — the only difference is that our Power Chute is the only fully powered OCDC. Our Power Chutes are even used by municipal government mowing crews and those individuals who are mowing close to roadways.
Keeps grass clippings and debris contained within the lawn mower and prevents them from being blown onto driveways and other areas
Blows away clippings to clear sidewalks and other areas when the chute is closed enough that the amount of air coming from under it is strong enough
OCDC Uses When Partially Closed
Controls how far the clippings are thrown from under the mower deck to keep them from landing on hard surfaces and beautification areas
Prevents dangerous objects like gravel from being thrown at a high speed from under the mower deck and unto nearby cars and people