High-Quality
Lawn Mower Discharge Chutes and More!
Equip your mowing units with our sturdy products
Mow Faster and

Safer With the

Help of Our

Discharge Chutes
Clearing out grass clippings and debris from freshly groomed areas when you mow your clients' yard can take up too much of your time. Fortunately, Power Chute Design offers a product that helps lessen the cleanup work needed after mowing a lawn.
We provide innovative lawn mower discharge chutes called Power Chutes, the first fully powered operator-controlled discharge chutes (OCDCs) proudly made in the US. Our products can help you with the following:
Keeping grass and debris from collecting on lawn beds, driveways, freshly groomed yards, and other areas
Shortening the cleanup time needed for your yard work
Preventing dangerous objects from being ejected out from under the

lawn mower
Aside from our unique OCDC, we also offer a wide variety of parts and accessories for your lawn mower. These include heavy-duty replacement motors that are only $59.90 with free shipping.
What Our Customers Have to

Say About Our Products
"Norm, I'm so glad I found you guys. Spending hours a day on lawn sites has paid off, I guess! I recently placed an order for your powered OCDC for my new mower, a hustler super z with a 60" XR-7 deck. I got any possible option on this baby, but the only thing missing was this powered chute! I can't wait till I get it! I'll keep you informed on how it turns out!"
C.J. in Michigan
"I have used chute covers for years and an actual Power Chute for about a month. I don't know how guys mow without one. There isn't one lawn where we don't use the chutes to keep clippings out of beds, pools, ponds, etc. Makes blowing drives much faster by creating additional velocity. If near a pet, car, kid, etc., you just close it and no worries.
I use it as a selling tool on estimates; people seem to love the idea. I am so hooked that we will never own a mower without one again."
W.L. in Maryland
"Purchased and installed my new Power Chute....and I am impressed! Cuts time off of mowing and makes clean up 10 times easier. Best money I have spent on a piece of equipment so far."
B.B. in Vermont
"The cycle time is real fast and smooth. Helps out a lot! I kind of wonder why they don't come from the factory."
J.R. in Ohio
"Great Product. Well worth the investment. Good unit. Sure beats all those designs with control sticks that get in the way."
T.L.S. in Pennsylvania
"After we sold our first one and the other LCO's saw it, every other customer wanted one. Send me 11 more."
A.C. in Kentucky
"Great to deal with and they do what they say. Rock Solid."
D.R. in Indiana
"I received the (Power) chute for the Lazer last week and I really like it."
R.E. in Illinois
"Once you get used to the (Power) chute, it's hard to work without one. Can you send me two more for my other mowers?"
B.W. in Iowa
"I'm having a problem since I got two of your Power Chutes. The employees are fighting to see who gets to use the two 997's that have them mounted to the mowers. They're saying that once they use them they don't want to work without a Power Chute. I want to order six more for the rest of the Z-Traks in our fleet."
M.S. in Indiana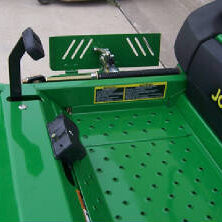 Purchase A

Power Chute Today
Reach out to us with any questions you may have on your purchase.